The weather is much cooler here now, you can feel fall coming in the air. So that means it time to start sewing pajamas for the five kiddos! I always try and sew 3 pairs for each child, that way they have great rotation and last longer. My kids look forward to their mama made pj's every fall now for a few years so when I was able to pattern test the Sleepy Bear pj's for Ellie Inspired I about flipped! The design is so wonderful and the size range is for size 1 to size 16! Yes, all my children's sizes in one pattern! To make it even better the pattern is a three piece set, pants, top and hooded robe and sews up so quick. It's a dream come true pattern for me! I was able to print out, trace, cut and sew a whole set within about 6 hours time (not bad if I say so) so I am able to whip out several pairs quickly; with five children that is a huge plus!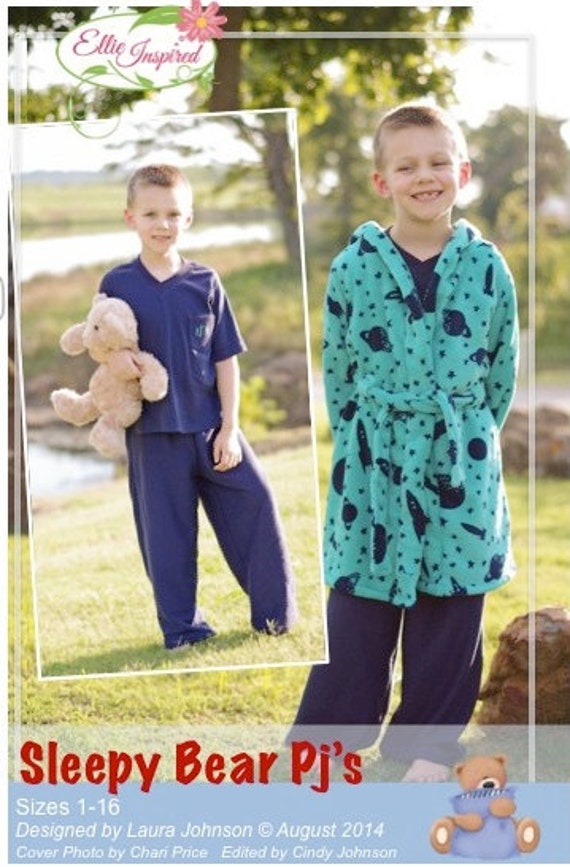 The second great part of this pattern is that the bottom and robe can sewn in knit, flannel, fleece and minky. (the top does have to be sewn in knit or stretchy material) This pair here is sewn with a flannel bottoms, a knit top complete with flannel pocket to match the pants and a flannel robe. (this pattern even has a short pattern to it for my friends sewing on the other side of the world so it's prefect for summer time too)
Isn't the robe just darling?! All the fabric to sew both pairs was sent to from my grandmother, thank you so much grandma!! They made the cutest pj's! (sewing runs along way down from generation to generation in this family)
With all the camping out we have done, this robe sure has come in handy. We have had many cool nights already and it really fit the bill to keep Prince C warm and snug. He really loves the hooded robe the most of this whole pattern.
and the second pair! (like I said, this was a really quick pattern!) Prince C is crazy about animals right now. He loves trips to the zoo so much so this pair really suits him. I have been saving this knit for just the right project too. (the wee pocket just kills me!) This set is all knit except for the robe which is more of a minky fabric with the hood of the robe lined in same knit as the pants.
he ahs even worn this shirt all day too, with his shorts to paly in. I will tell you ladies this is his favorite top right now. I keep telling him it's a pj top but he smiles and tells "no, no, mine" lol. At least he loves it right?? :-)
The robe on this one is super soft! This robe has all the other kiddos requesting one as well. It's so soft and cozy that I want one too in my size. I do have fabric ready to go for the other four kiddos too. Sweet pea's is up next, pink frog fabric from grandmother as well. My grandmother is so awesome that she always knows what fabric to send that the kids will like!
Sharon