Well I finally made something for me! I finished one of my dresses for the upcoming sew along I am hosting later this month. It might look like a tent on a hanger (size 18) but it fits lovely!

The darts give a wonderful woman shape to the top. Much nicer than any Tshirt that I normally wear.
I love the two darts that is on the back bodice, once again it gives the dress a nice shape! I really love this pattern too! The pattern was easy to follow and came together nicely. I am impressed with myself on this one, I was thinking it would be harder to sew than Sweet pea dresses but it wasn't. It was weird though sewing something much bigger than her tiny clothes. ;)
I love the button placket that goes all the way down the front of the dress. I used a transparent white button, I love how it "goes" with the dress.
Thew collar has edge stitching that goes around the entire way, with my new sewing machine it was a breeze too. It makes the dress look more professional I think. The bottom picture is the top after I washed the blue marking pen out. I will post some pictures of me wearing this lovely dress after I go buy a slip to go under it. (I don't wear dresses that often but now that will change!) I can't wait to show you ladies!!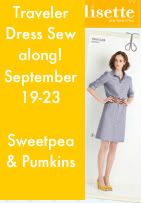 Don't forget to mark your calenders for this upcoming sew along!
Sharon